Paul Dennis Biography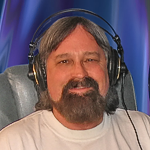 Paul Dennis Kopco was born in Cleveland, Ohio and moved to Sarasota, Florida at age 5, where he grew up. He began taking accordion lessons at the age of 7, and played the baritone horn in elementary school. At the age of 13 he bought a guitar and learned to play by ear. Also at this time he began to write songs. He formed a rock band with his brother, a drummer. They made a record of a song Paul wrote which became a regional success.
Paul majored in math and minored in music at the University of Florida. After graduating he moved to New York City. There he played guitar and bass guitar and sang in a number of club date, society and rock bands, and gave music lessons in guitar, banjo, piano, and drums.
Six years later Paul moved to Virginia, where he wrote and recorded music in a home multitrack recording studio, playing a variety of instruments and singing multiple vocal parts. He led a country music band for three years, singing lead and playing lead guitar.
In the mid 80s Paul became involved in the world of computers, first as a salesman in Virginia and later as a corporate support and training specialist in Delaware. Eventually he became the head of corporate communications and desktop publishing for the marketing department of a manufacturing company.
After moving to the Black Hills of South Dakota in 1994, Paul finally had the opportunity to combine his two lifelong pursuits: music and computers. In the spring of 1995 he composed and recorded Black Hills Gold using MIDI technology, an electronic music keyboard, and his personal computer.
Paul Dennis Kopco was a professor of computer graphics, web design, and multimedia at Black Hills State University in Spearfish, South Dakota for 18 years. His wife was the director of Deadwood History Inc. and the Adams Museum, the oldest history museum in the Black Hills and winner of 3 Emmy commendations for research provided to HBO's Deadwood series. He is the host of The Real Deadwood Podcast, a variety show from the real Deadwood in the Black Hills of South Dakota for fans of the HBO Deadwood series combining interviews, entertainment and news from both Deadwoods. He currently maintains the Real Deadwood Podcast Facebook page. He wrote a computer education column, Knowledge Of Personal Computing Online, in the Black Hills Pioneer newspaper, and also wrote a monthly technology column, Digital Discourse, for the Rapid City Journal.
He and his wife Mary moved to Fort Collins, CO in October of 2014, where he continues to perform, playing blues and R&B in local venues.
« back
All contents ©1996-2017 Paul Dennis Kopco. All rights reserved